Scripture names for Jesus calligraphy and art framed and matted for home decor and gift giving
Scriptural Names for Jesus referenced in calligraphy with multi colored lettering



Available in two mat frame options.
Gold Frame with Burgundy/Gold matting
&
Burgundy color frame with Dark Green and Burgundy Matting
Size is 11"X14"
All framed art has glass, dust cover and hook or wire on the back and is ready to hang.

Personalize this with a family name and date.
Great gift for Wedding, Anniversary, House Warming, Father's Day,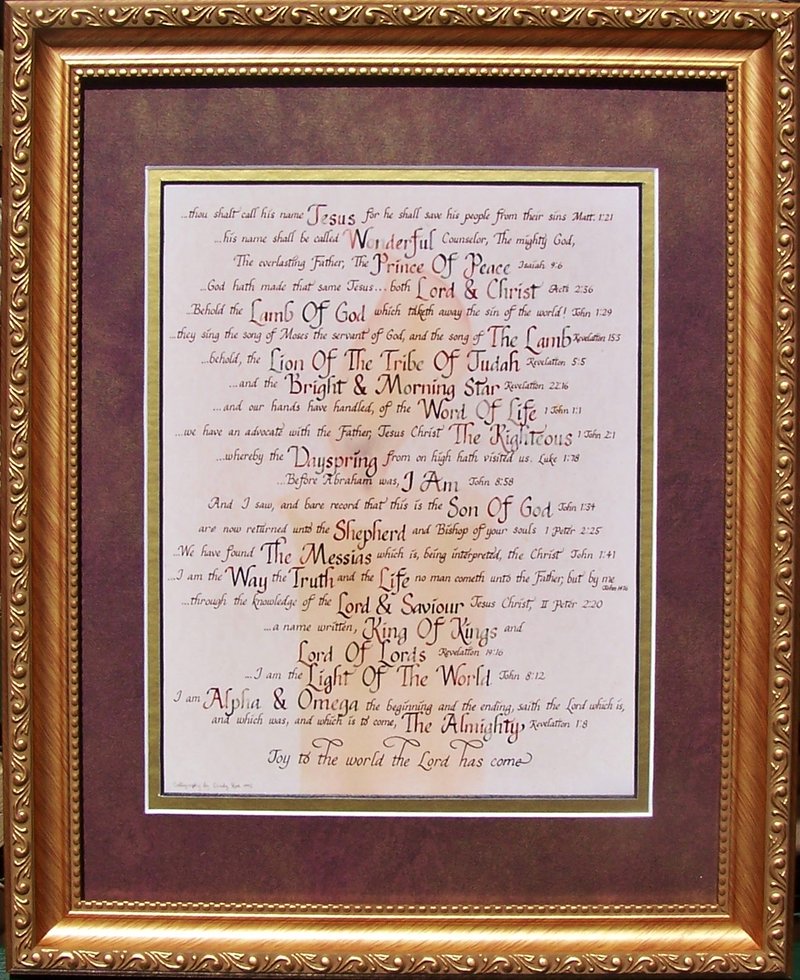 Mother's Day, Easter, Church Office and Christmas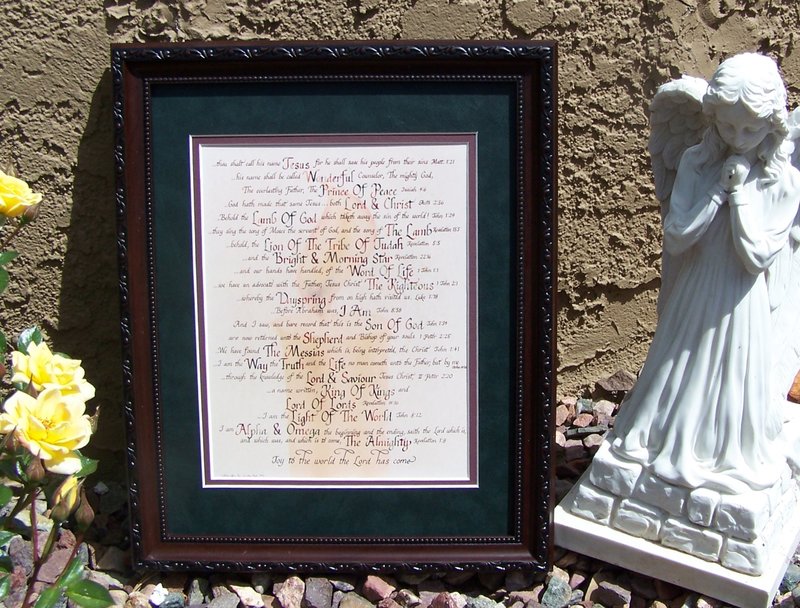 Qty:

*
The scripture/text for Scriptural Names for Jesus is:
thou shalt call his name JESUS for he shall save his people from their sins. Matt 1:21
...his name shall be called WONDERFUL Counselor, The mighty God,
The everlasting Father, The PRINCE OF PEACE...Isaiah 9:6
God hath made that same Jesus...both LORD AND CHRIST...acts 2:36
Behold the LAMB OF GOD which taketh away the sin of the world! John 1:29
they sing the song of Moses the servant of God, and the song of THE LAMB...Revelation 15:3
...behold the LION OF THE TRIBE OF JUDAH. Revelation 5:5
...and the BRIGHT AND MORNING STAR Revelation 22:16
...and our hands have handled, of THE WORD OF LIFE. 1 John 1:1
...we have an advocate with the Father, Jesus Christ THE RIGHTEOUS. 1John 2:1
whereby the DAYSPRING from on high hath visited us. Luke 1:7-8
...Before Abraham was, I AM John 8:58
And I saw, and bare record that this is the SON OF GOD John 1:34
...are now returned unto the SHEPHERD and Bishop of your souls 1Peter 2:25
...We have found the Messias which is being interpreted, the Christ. John 1:41
I am the WAY,the TRUTH and the LIFE. No man cometh unto the Father, but by me. John 14:76
...through the knowledge of the LORD & SAVIOUR Jesus Christ 2Peter 2:20
... a name written, KING OF KINGS and
LORD Of LORDS Revelation 19:16
...I am the LIGHT OF THE WORLD. John 8:12
I am ALPHA AND OMEGA the beginning and the ending, saith the Lord which is, and which was, and which is to come, THE ALMIGHTY Rev. 1:8
Joy to the world the Lord has come
Brand New Nurse Mug now Available