Saint Mother Teresa Quote People are unreasonable, illogical and self-centered love them anyway horizontal calligraphy picture
This quote hangs in one of my guest bathrooms and I frequently receive uplifting comments about it. A great read to start your day.
Matting is Black and Pecan with a Birdseye Maple Frame
Available in 8X10 and 11X14 sizes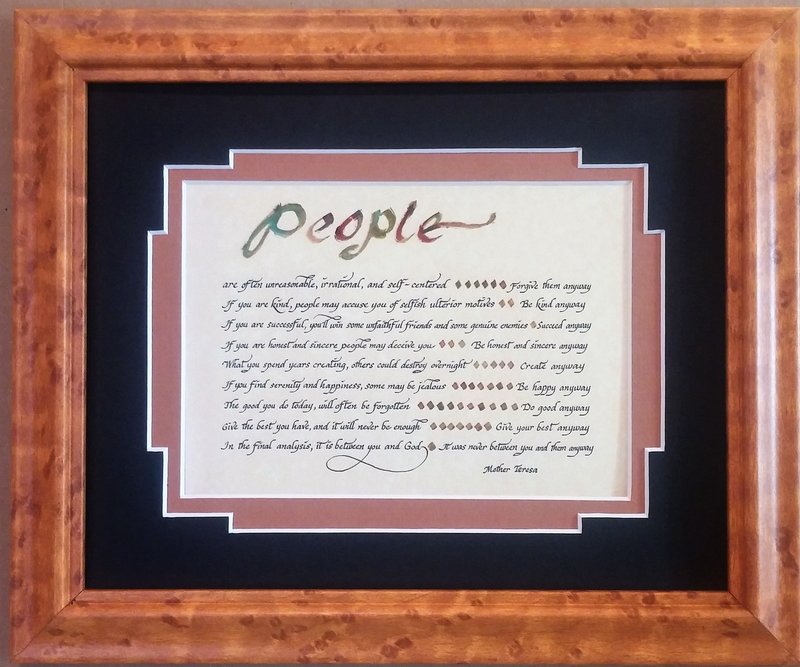 This beautiful quote from Saint Mother Teresa was found on her wall in the home where she lived in Calucutta.

It is a humbling read and one that I reflect on often.
The words are as follows:
People are often unreasonable, irrational, and self-centered. Forgive them anyway.
If you are kind, people may accuse you of selfish, ulterior motives. Be kind anyway.
If you are successful, you will win some unfaithful friends and some genuine enemies. Succeed anyway.
If you are honest and sincere people may deceive you. Be honest and sincere anyway.
What you spend years creating, others could destroy overnight. Create anyway.
If you find serenity and happiness, some may be jealous. Be happy anyway.
The good you do today, will often be forgotten. Do good anyway.
Give the best you have, and it will never be enough. Give your best anyway.
In the final analysis, it is between you and God. It was never between you and them anyway.
-this version is credited to Mother Teresa
Brand New Nurse Mug now Available