Nurse Graduation or Nurse Appreciation Gift with Gourmet Coffee or Organic Tea with Framed Prayer and Nurse Coffee Mug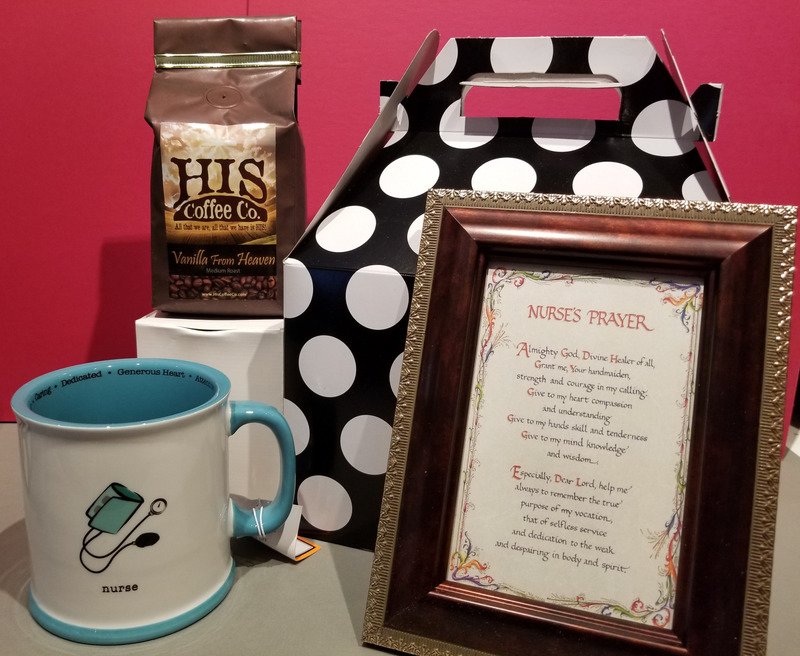 A special gift for Nurse. Whether appreciation or graduation, this gift box has lots of love and celebration for the nurse you care about? Your choice of red or black polka dots or pastel stripes for the gift box. It's ready to give to the recipient and includes the following inside:
A ceramic nurse mug with a blood pressure cuff printed on one side.

A framed 4"X6" Prayer for a nurse also included in the box.
Coffee or Tea
You will need to choose from a box of Shepherd's Bible Verse Tea which has 20 tea bags each having a Bible verse on the tag. OR if you prefer, choose a bag of Delicious Gourmet Coffee. Four choices of flavors and grinds. In addition, a box of Friendship band-aids is included in the box. These boxes hold all the gifts and ready to give to the special person.

I will hand letter a name on a card as shown on the examples and put a short sentiment on the inside of the card. (Example also is shown)

The nurse mug is a generous 15-ounce ceramic mug, 4"Tall
Full-color blue on the inside of the mug. Text on the rim listing Professional traits Generous Heart, Attentive, Compassionate, Educated, Skilled, Spreads Cheer, Caring, and Dedicated.

The framed Nurses Prayer print includes plexiglass and a hook on the back making this ready to hang and enjoy.

Nurses Prayer says:

Nurses Prayer
Almighty God, Divine Healer of all

Grant me your handmaiden,

strength and courage in my calling

Give to my heart

compassion and understanding.

Give to my hands skill and tenderness

Give to my mind knowledge and wisdom

Especially dear Lord help me

to always remember the true

purpose of my vocation;

that of selfless service

and dedication to the weak

and despairing in body and spirit.

Please give me the name you would like on the outside of the card and a short sentiment on the inside.

Also, please don't forget to choose your Gable Box Design/Color. All items are tissue wrapped before going into the box. No need to wrap as this is already ready to present.
Brand New Nurse Mug now Available